Are you playing Barbarian in Diablo 3? Maybe you do not know which class you should take in Diablo 3? Or maybe you are just beginning your adventure with Diablo 3? Whatever situation you are right now you must know few facts about Barbarian class.
So far I was giving to my readers a lot of different Diablo 3 Barbarian Builds:
Barbarian Inferno Builds – Damage and Survivability
Barbarian Inferno Build – Tank That Never Dies
Barbarian Build – Fast Leveling Build
However today I wanted to write something for less experienced players. I wanted to write a short article for you that describes barbarians skills. Especially if you are beginning you just must know your skill set to decide on your own which builds/skills will be the best for you. CLICK HERE for THE BEST Diablo 3 Barbarian Guide
- Fury Generators
Bash, Cleave, Fenzy
These skill are you basic damage dealer and fury generators. They are fuel for more advanced abilities.
All these skill benefit from attack speed bonus (when carring two weapons) and can generate a lot of Fury very quick. Perfect as basic attack that you will need to prepare something more fun for the enemies.
- Fury Abilities or Fury Generators with Cooldowns
Leap, Ground Stomp, Furious Charge, Ancient Spear
These skills generate Fury but still they have their cooldows. This means that you can use skill and then you must wait for cooldown doesn't matter how much fury u have. For skills like that Attack Speed has no meaning only ure damage counts.
Most of these skills (Ground Stomp, Leap) you can use to somehow control mobs (stunt, pull, snare etc.) and thanks to that you can do more damage.
- Fury Spenders
Rend, Seismic Slam, Whirlwind, Sprint, Hammer Of The Ancients

This skills require Fury. The most ideal way of using skills like that is to combine them with Fury generators like Bash, Cleave, Frenzy. When you have enough Fury you can chain cast them and destroy everything that walks/flies/crawls.
- Additional Abilities
Overpower, Revenge, Ignore Pain, Earthquake, Call of the Ancients
These skills doesn't require Fury but they have their cooldowns. Usually you can sue them when big troubles are coming. Call of the Ancients is great when you see pac of the rare/champion mobs to eliminate them faster etc.
Another example is "Revenge" thathas very small cooldown (half a second), but basically attack as a free AOE (area of effect) attack. It can be used independently from your normal Fury Generator like Bash, Cleave, Frenzy. Using Revenge with some kind of two-handed weapon will give you huge damage and nice self-healing.  CLICK HERE for THE BEST Diablo 3 Barbarian Guide
- Shouts
Wrath of the Berserker, Battle Rage, War Cry,Threatening Shout,
These skills are pretty much buffs for you. They can increase your health/damage/resistance/attack speed/critical chance etc. Wrath of the Berserker is ideal skill for Bosses and rare/champions enemies. Rest of them you can use effectively trough the game.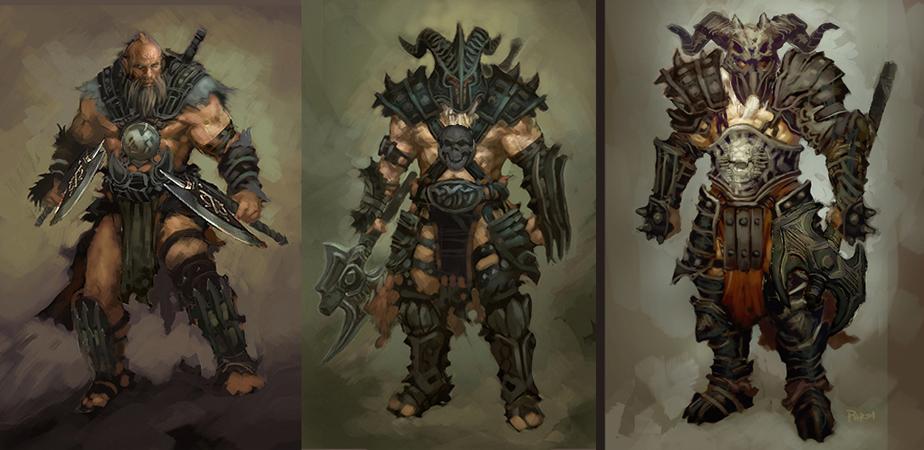 2-Hand vs 1-Hand vs Duel Wield
You must decide about that by yourself. At the beginning of your adventure with barbarian you do not have to worry too much about survivability so you should take two weapons/two handed to do more damage.
However later at Hell and Inferno difficulty changes drastically and you may be forced to get some kind of protection. Shield may become a necessary for you when you will die too much. For more information how to master Diablo 3 click here.
Tags:
Barbarian Class Basics
,
barbarian builds
,
Barbarian skills